Product Description
Shenzhen Yizexin High quality flexible printing circuit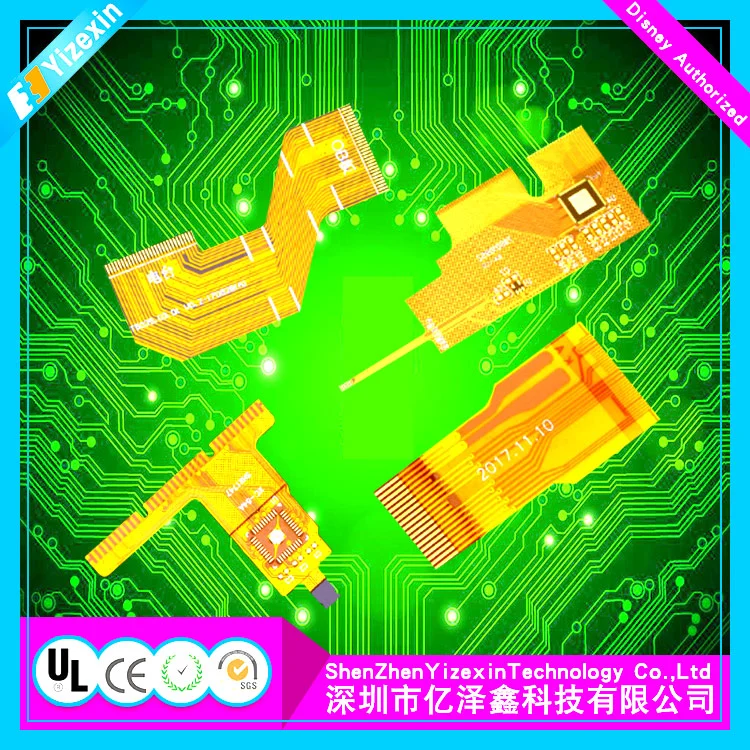 ain Material and Technical Specifications:
Name:

FPC Process Capability

Number of Layers
Single Sided, Double Sided, Multilayer,Rigid-flex PCB

Based Material
PI, PET



Certificate:


OHSAS18001:2007,ISO14001:2004,ISO/TS16949:2009,
ISO13485:2003,TUV,UL,SGS,ROHS,FCC,CCC,CE,ASTM-F963-16

Custom Made:

OEM/customize

Flexible layers

1~8layer

Minimum Trace and Space

12&18um(base Cu):0.075/0.075mm ;35um(base Cu):0.1/0.1mm

Minimum Space Betw en

Coverlay Openings

0.2mm

Minimum Space between

coverlay and solder pad

0.15mm

Polyimide Films

0.5 mil (12.5), 1 mil (25), 2 mils (50), 3 mils (75),

4mils(100), 5 mils(125) as custmer requested

Thermobond Adhesives

Acrylic/Modified Acrylic, Modified Epoxy, Polyimide

Copper Foils (RA or ED)

1/3oz (12), 1/2oz (18), 1oz (35), 2oz (70)

Surface Finish

Electroless Ni/Au, Electrolytic soft/hard gold,

Tin plating,,Imm.Tin,Entek/OSP

Solder Resists

Coverlay, Photo-Imagable Resist

Copper Plated Thickness(PTH only)

8~15um;20~30um;30~70um(special)

Minimum space between

coverlay and conductor

± 0.15mm

Minimum conductor edge to

outline edge

≥0.1mm

Au thickness




Electroless Ni/Au Ni:2~6um;Au:0.035~0.075um

Electrolyticsoft/hardgoldNi:2~9um;Au:0.035~0.1um

Smallest Drill Size

0.2mm

Largest Drill Size

6.3
A blend of rigid and flex emphasizing the best of both constructions, adding complimenting capabilities that neither possess alone. In its most typical configuration, the rigid-flex is as a series of rigid PCBs joined by integrated flex circuits (with emphasis on the high percentage of rigid area content). There are many excellent possibilities for circuits designed primarily as a flex circuit with the addition of integrated rigid areas. The rigid areas provide excellent hard mount points for components, connectors and chassis while flex areas offer dynamic flexing, flex to fit, and component mounting poised to take advantage of these low mass and vibration resistant zones. This blending leads to creative solutions for your most demanding application
Multilayer flex circuits offer exceptional performance and reliability in situations where the circuit is exposed to excessive vibration or shock combined with frequent bending or folding. Multilayer technology allows high circuit density connections to be achieved in applications where one or two layers of conductors could not meet the required circuit packaging requirements. Additionally, multilayer flex circuits provide increased functionality with a smaller footprint.
About our company:
We have three companies,more than 500 workers in it.Our companies are specialized in the production of membrane switch,nameplate,lenses,crystal glue Acrylic craftwork,cartoon frameand so on.We have large dust-free workshop,full automatic silk screen printing machine,colorprinting machine,CNC engraving and milling machine,numerical control cutting machine,punchandsomeothermodernproductiondevices.BT,,SEMTECH,Emerson,Delong,FerroliMotorola,Haier,Electrolux,Guangbao are all our cooperate partners. We are authorized by such as China famous quality products,quality service productsAAAenterprise,OHSAS18001:2007,ISO14001:2004,ISO/TS16949:2009ISO13485:2003,TUV,UL,SGS,ROHS,FCC,CCC,CE,ASTM-F963-16.I can assure you of our best qualitly. Look forward to cooperating with you .