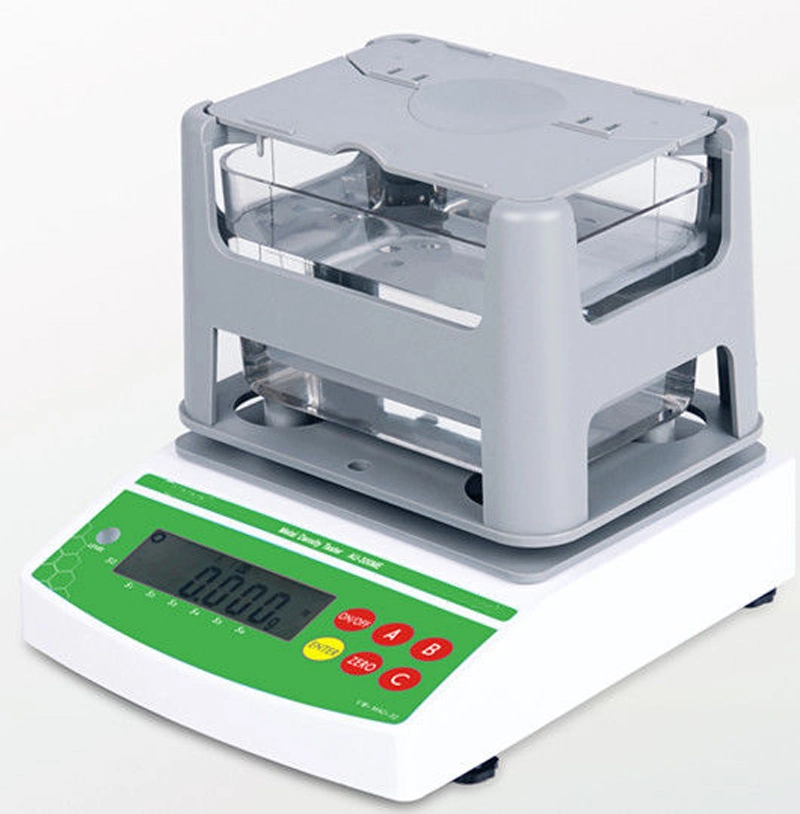 High Precision Porosity Metal Density Tester/Digital Density Meter
Application:
Porosity is more than 2%,compression moulding by metal powder,and feature of water absorption,that is called porosity metal materials.of which normal density range is from 2.0 to 8.5g/cm3.This series instrument according to ASTM B311,B328,GB/T5163,JIS Z2505,JIS Z2506,MPIF Standard42,MPIF Standard45.,etc standards;Adopt high precision weight sensor,water measurement equipment with no binding sample;Density value can be tested instantly;Function of saturation measuring method,surface covering waterproof method,high viscosity medium liquid method and so on;
Measurement Type:
Semi-finished products made up by compression moulding method through make-up machine.

MIM injection moulding products.

Products with high temperature sintering

Porosity,oil content.

Real density for metal powder.

performance density and apparent density for metal powder

Density for other solids.
Measuring Typical Products:
Powder metallurgy
Oil bearing with copper-base,iron-base,iron copper-base;structural parts with
copper-base,iron-base,iron copper-base;piston of shock absorber,water rotor pump for auto,chain wheel,transmission gear,roller gear,electrical gear,eccentric gear,reducer casing gear,engine chain wheel,bevel gear,sector gear,duplicate gear,filter,spring bolt,planetary gear carrier,spiral bevel gear,internal gear,bevel wheel,transmission gear,belt pulley,synchronizing wheel,tooth shape axle sleeve.,etc.
Magnetic materials
Fine ceramics
Measuring Resolution:
TR-AU-120PM,AU-200PM density resolution:0.0001g/cm3
TR-AU-300PM,AU-600PM,AU-900PM,AU-1200PM density resolution:0.001g/cm3
Features:
Convenient,rapid measuring,accuracy.

Unobstructed without lifting lid design,more simpler operation.

High precison weight resolution,makes measuring result more accuracy and reliability.

Any shape can be measured instantly,suitable for quick measurement situation.such as site and laboratory.

No need to bundle samples.weight for suspension wire can be deducted to zero.

Either water or other liquid can be used as medium.

Function of actual water temperature setting,medium density setting.

Function of air buoyancy compensation setting,top and bottom limitation for density setting.

Adopt completed injection moulding transparent PC water tank(length 15.3cm x width 10.7cm x 9.3cm),which can resist wear,fall off,and corrosion.

Adopt precision aluminum alloy completed testing board.

Equiped special windproof dustproof cover,which makes the structure more convenient and durable.

Including RS - 232C communication interface.it is convenient to connect PC with printer.DE-40 can be chose to print measuring data.

Gross weight/Size:4.5kg/length 42.5cm x width 17.5cm x height 32.5cm

Power supply:AC 100V-240V 50HZ/60HZ Europe standard
Standard Accessories:
(1)host(2)water tank(3)testing board(4)tweezers(5)thermometers(6)weight(7)windproof dustproof cover(8)power transformer
Porosity Materials Measuring Procedure:
Place samples on testing board to measure weight in air.press ENTER key to memory.

After did water repellent treatment on samples,place it on testing board to measure weight in air.press ENTER key to memory.

Place samples into water to measure weight in water.press ENTER key to memory.density value will be displayed.
Anti-counterfeiting Announcement:
The bad and good products is intermingled on market today.Most customers had suffered a lot from the brand replacement products,shell brand products,simulation products,and transferring after-sale service products.To protect your rights,please identify seriously when choose goods.Following is the method to distinguish QUARRZ brand product.
Method one:Start up,machine will display in sequence:brand,model(such as QUARRZ,AU-300S)

Method two:After starting up,press ZERO key and B key at the same time,the machine will display in sequence:brand:model,factory number.of which information correspond to the one marked on machine.

Method three:Check security code that generate automatically by machine number.
Specification:
Brand

TRYTE

Model

TR-AU-300PM

TR-AU-600PM

TR-AU-900PM

TR-AU-1200PM

TR-AU-120PM

TR-AU-200PM

Weight

Range

0.005~300g

0.005~600g

0.01~900g

0.01~1200g

0.001~120g

0.001~200g

Standard deviation

0.005g

0.005g

0.01g

0.01g

0.001g

0.001g

Density

readability

0.001 g/cm3

0.0001 g/cm3

Testing board

ABS injection moulding

Aluminum alloy

die-casting moulding

Density range

0.001~99.999g/cm3

0.0001~99.9999g/cm3

Result display

Apparent density,volume density,wet density,overall porosity,effective porosity,open pore volume,bulk volume,oil content,water absorption

Measuring time

About 5 seconds

Opening lid

method for

testing board

Unobstructed without lifting lid design

Water tank

Completed injection moulding transparent PC water tank(size:length15.3 cm×witdth10.7 cm×height9.3cm)

Parameter setting

Water temperature setting,measuring medium density setting,primary materials and secondary materials setting,air density setting,suspension wire buoyancy deviation setting

Calibration method

Single key calibration,automatically testing

Standard components

(1) host(2)water tank(3)testing board(4)tweezers(5)thermometers

(6)weight(7)windproof dustproof cover(8)power transformer

interface

Standard RS-232 interface

Optional accessories

AU-40 printer,data connecting wire

Power supply

AC100V~240V 50HZ/60HZ (Europe standard)

Gross weight/size

4.5kg/Length42.5 cm×Width17.5 cm×Height32.5cm


Packing: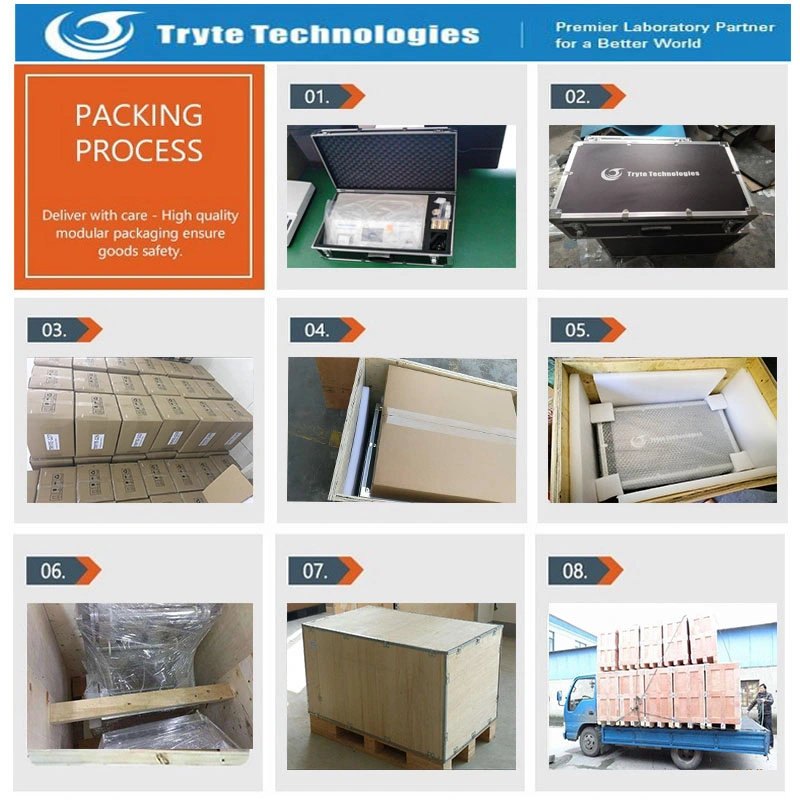 Company Information:
As a diversified manufacturer of high-tech products, it was founded in 1999, and devoted to the products, sales and technical service for various industries and fields like Energy analysis instrument, Oil, coal, steel, and geology; medical analysis and application instruments, biochemistry analyzer, elisa reader, blood analyzer,and urine; as well as laboratory application instruments,autoclave/sterilizer,freeze dryer, incubator,drying oven,balance,ICP,DRS,HPLC,gas chromatography,and spectrophotometer,meanwhile,TRYTE Technologies integrated and purchased some companies of PCB board, highway instruments at home and abroad. Our company has become the "one stop" instrument procurement service provider worthy of the name.
TRYTE technologies (TRYTE) mainly sell products by selling direct to customer, but also through distributors, resellers and manufacturer representatives, telephone sales and e-commerce sales, customers cover all over 80% of the world's countries and regions.TRYTE have solutions with rules adaptability according to the specific requirements of the design, from the instrument to some laboratories or departments.Whichever kind of solution you choose, you can fully trust it, because it is proved from 100, 00 successful results, leading development process, and decades of actual certification experience.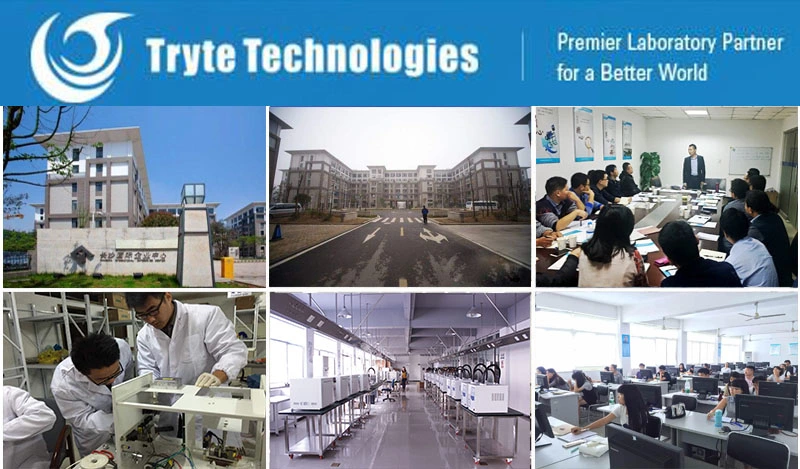 Why choose us?
1. We supply high quality products with reasonable price.
2. We are the professional manufacturer;
3. Advanced production machine;
4. Strict quality control system;
5. Ten people research&develop team;
6. We have professional sales team;