Ucreate PCB's aim:
Customer Satisfaction is Always Our First Priority!
*Quality Policy

*Top Quality and high efficiency

*Improve continuously

*Achieve customer's satisfaction
Product Descriptions:
*Layers: 1-22
*Base material: FR-4 CEM-1
*Thickness: 0.2-5.0mm
*Solder mask: Green, black, red, yellow, white
*Min. Line width: 0.075mm
*Min. Line space: 0.075mm
*Min. Hole diameter: 0.1mm
*Surface treatment: Immersion gold, OSP. Lead free HASL.
*Blind/buried via holes: OK
*lead time: Seven to ten days (HDI: About 30 days)
We can also make quick pcb. As customers plates copied from the PCB, PCB design, prototype production, production, processing, and other SMT one-stop service.
Single-double sides pcb delivery time: 12-24 hours
4 layer- 8 layer pcb delivery time: 48-96 hours
We specialize in:
Ucreate is specialized in the production of a variety of single, double, high multi layers, HDI, the metallic substrate and FPC PCB. With laser drilling machine, CNC drilling machine, automatic machine, automatic exposure machine, large-scale lamination machine, Automatic flow production line, auto panel plating line, auto P.T.H Line, and other precision production equipments and AOI testing machine, flying probe tester machine and other advanced detection equipments.
PCB assembly Equipment:
1. High speed and precision chip placer or multi-function SMD mounter
2. Wave soldering machine
3. Vacuum machine
4. High temperature box
5. Auto-solder paste printer
6. Hot- and mixed-air reflow
Production processes:
Material Receiving → IQC → Stock → Material to SMT → SMT Line Loading → Solder Paste/Glue Printing → Chip Mount → Reflow → 100% Visual Inspection → Automated Optical Inspection (AOI) → SMT QC Sampling → SMT Stock → Material to PTH → PTH Line Loading → Plated Through Hole → Wave Soldering → Touch Up → 100% Visual Inspection → PTH QC Sampling → In-Circuit Test (ICT) → Final Assembly → Functional Test (FCT) → Packing → OQC Sampling → Shipping
Requested information for PCB assembly:
1. Components list
(a) Specification, brand, footprint
(b)To short the lead time, please kindly advise us if there is any acceptable components substitution.
(c) Schematic if necessary
2. PCB board information
(a) Gerber files
(b) PCB board processing technic
3. Testing Guide & Test Fixtures if necessary
4. Programming files & Programming tool if necessary
5. Package requirement
Why choose us?
1. Your inquiry related to our products or prices will be replied in 24hrs.
2. Well-trained and experienced staffs to answer all your enquires in fluent English
3. OEM&ODM, we can help you to design and put into product.
4. Distributorship are offered for your unique design and some our current models
5. Protection of your sales area, ideas of design and all your private information
Trade Terms:
1. Payment: T/T in advance (Western Union , payple is welcomed)
2. Production lead time 100PCS: 5-7days, 500~1000PCS: 7-10days, above 1000PCS 15-20days.
3. Sample can be delivered in 3days
4. Shipping freight are quoted under your requests
5. Shipping port: Shen zhen,Mainland China
6. Discounts are offered based on order quantities
7. MOQ: 1PCS
Package & Shipping Methods:
1.Vacuum package with silica gel, Carton box with packing belt.
2. By DHL, UPS, FedEx, TNT
3. By EMS (Usually for Russia Clients)
4. By sea for mass quantity according to customer's requirement
Products Application: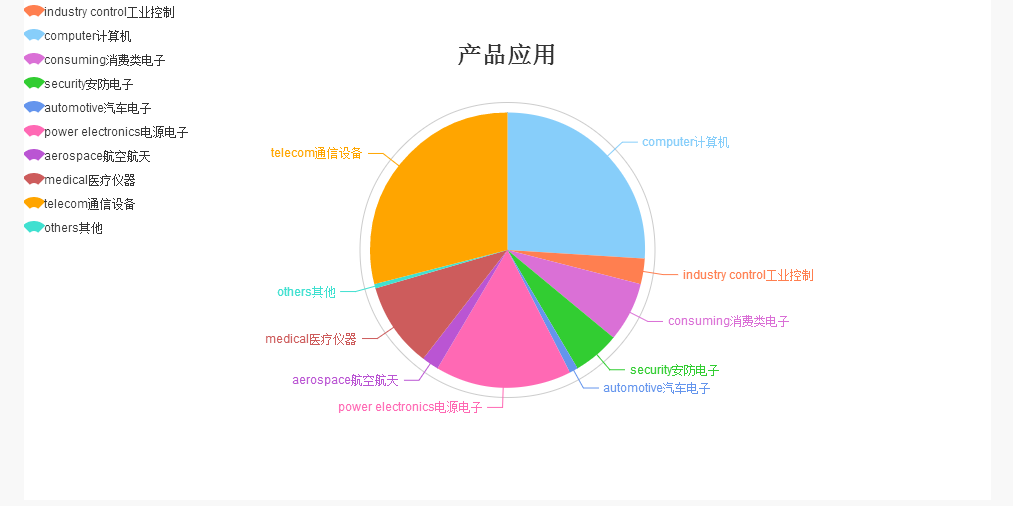 Market Distribution: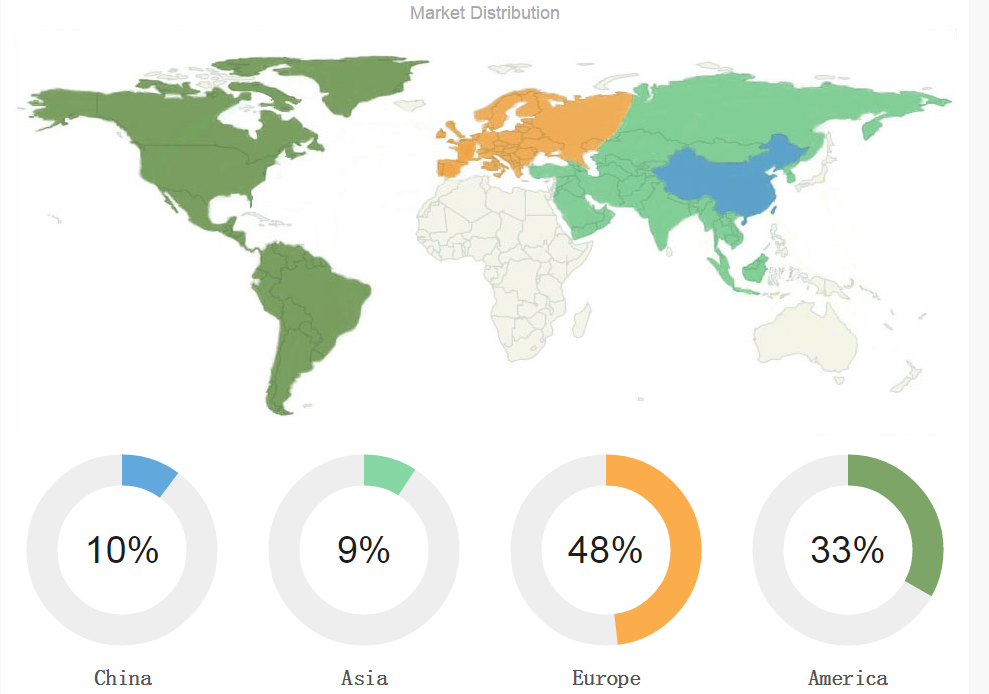 Technical Capabilities:
Items
Speci.
Remark
Max panel size
32" x 20.5"(800mm x 520mm)
Min trace width/ space (inner layer)
4mil/4mil(0.1mm/0.1mm)
Min PAD (inner layer)
5 mil(0.13mm)
hole ring width
Min thickness(inner layer)
4 mil(0.1mm)
without copper
Inner copper thickness
1~4 oz
Outer copper thickness
0.5~6 oz
Finished board thickness
0.4-3.2 mm

Board thickness tolerance control
±0.10 mm
±0.10 mm
1~4 L
±10%
±10%
6~8 L
±10%
±10%
≥10 L
Inner layer treatment
brown oxidation
Layer count Capability
1-30 LAYER
alignment between ML
±2mil
Min drilling
0.15 mm
Min finished hole
0.1 mm
Hole precision
±2 mil(±50 um)
tolerance for Slot
±3 mil(±75 um)
tolerance for PTH
±3 mil(±75um)
tolerance for NPTH
±2mil(±50um)
Max Aspect Ratio for PTH
8:1
Hole wall copper thickness
15-50um
Alignment of outer layers
4mil/4mil
Min trace width/space for outer layer
4mil/4mil
Tolerance of Etching
+/-10%
Thickness of solder mask
on trace
0.4-1.2mil(10-30um)
at trace corner
≥0.2mil(5um)
On base material
≤+1.2mil
Finished thickness
Hardness of solder mask
6H
Alignment of solder mask film
±2mil(+/-50um)
Min width of solder mask bridge
4mil(100um)
Max hole with solder plug
0.5mm
Surface finish
HAL (Lead or Lead free), immersion Gold, Immersion Nickel, Electric Gold finger, Electric Gold, OSP, Immersion Silver.
Max Nickel thickness for Gold finger
280u"(7um)
Max gold thickness for Gold finger
30u"(0.75um)
Nickel thickness in Immersion Gold
120u"/240u"(3um/6um)
Gold thickness in Immersion Gold
2u"/6u"(0.05um/0.15um)
Impedance control and its tolerance
50±10%,75±10%,100±10% 110±10%
Trace Anti-stripped strength
≥61B/in(≥107g/mm)
bow and twist

0.75%
Products Equipment: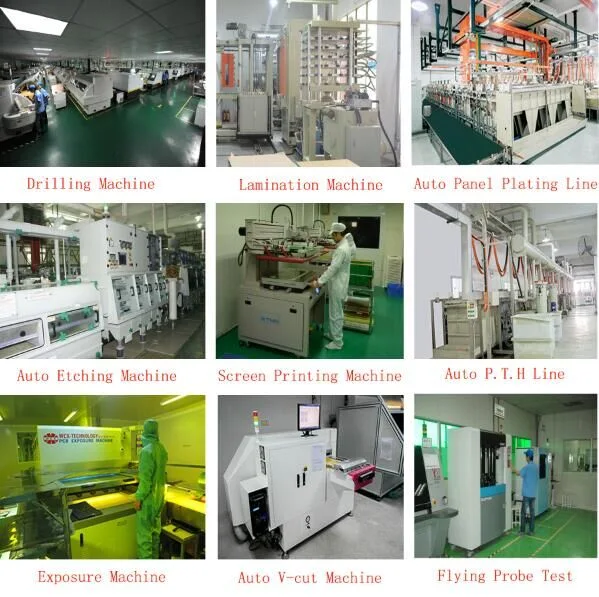 Certificates: